On 14 March 2014 a transfer of authority ceremony of the Spanish contingent in Bosnia-Herzegovina (BiH) took place in Travnik.
It was presided over by TRADOC´s commander, Brigadier Robert Susac, and also attended by Brigadier Skrijelj, chief of Training Division.
During the military ceremony the eighth rotation of the Embedded Advisory Team TRADOC Improvement (EAT-TI) took over from the seventh rotation. Lieutenant Colonel Pablo Moreno Galdós carried out the actual transfer of authority to Lieutenant Colonel Antonio Luzón Muniesa, who will command EAT-TI 8 for the next six months.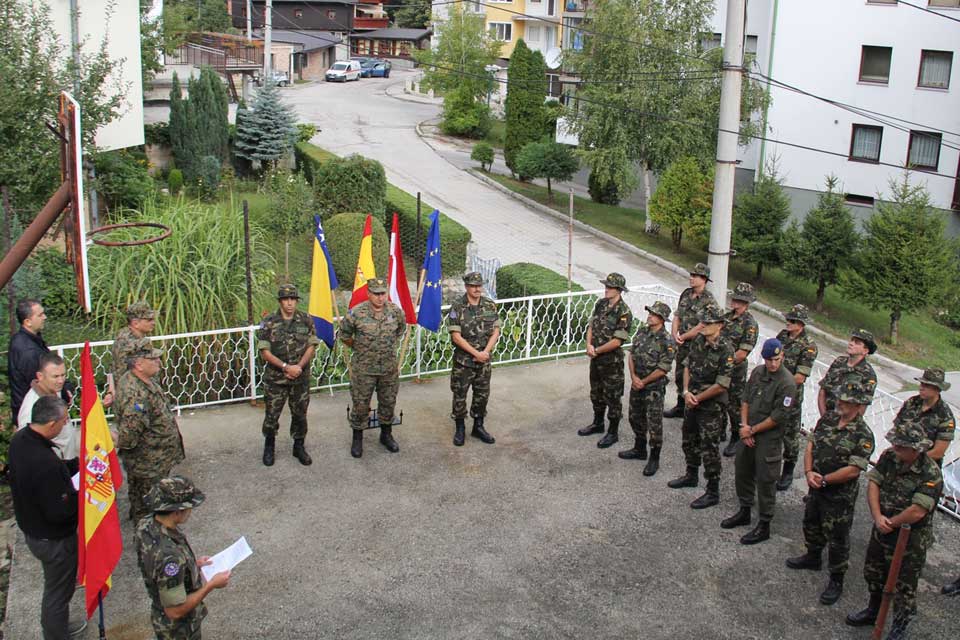 Embedded Advisory Teams
EAT-TI is a multinational team that carries out its missions in BiH, under the provision of EUFOR´s ALTHEA mission:
"To advise the AF BiH on EU/NATO doctrine, inter-operability, standarization and training, in conjunction with NATO. The main focus will be to provide comprehensive assistance in developing doctrine and training for Peace Support Operations in accordance with NATO standards."
In order to carry out this mission EAT has been located within the TRADOC facilities in the town of TRAVNIK since September of 2010 performing its work side by side with BiH TRADOC personnel.
The current EAT-TI is made up of six Spaniards and one Austrian. Since the beginning, Spanish personnel of EAT-TI have came from the Spanish TRADOC (in Spanish: Mando de Adiestramiento y Doctrina or MADOC) of the Spanish Army, thus making their acclimatization almost immediate and being able to receive constant feedback from Spain.
The support provided by EAT-TI consists of presenting advisory reports, holding conferences and expositions on how to deal with the different challenges that BiH TRADOC is facing. Moreover, in this rotation, its tasks include projects established by the Capacity Building Plan designed by EUFOR HQ in close cooperation with the Armed Forces of BiH.
BiH TRADOC
As for BiH TRADOC, it is important to know that its mission within the Armed Forces of BiH is to support training planning of the AFBiH, conduct basic, collective and institutional training, evaluate the level of training of individuals, commands and units in the centers and training areas, develop the doctrine, establish a system of lessons learned, propose modernizations of AF BiH, in the aim of achieving interoperability and compatibility of commands and units of the AF BiH in execution of their mission. Among their numerous missions is planning and conducting of pre-deployment training of individuals and units of the AF BiH that are deployed in Peace Support Operations and an evaluation of level of training of declared units and individuals that are deployed abroad.