Medical facilities in Bihać, Sarajevo, Zenica and Tuzla were pleased to host two EUFOR Doctors to share their experience of treating COVID-19. Major Pasquale Giannelli and Major Marino Trivisani both have extensive first-hand knowledge of diagnosing and treating Corona Virus back in their native Italian hospitals, where the pandemic has sadly claimed many lives.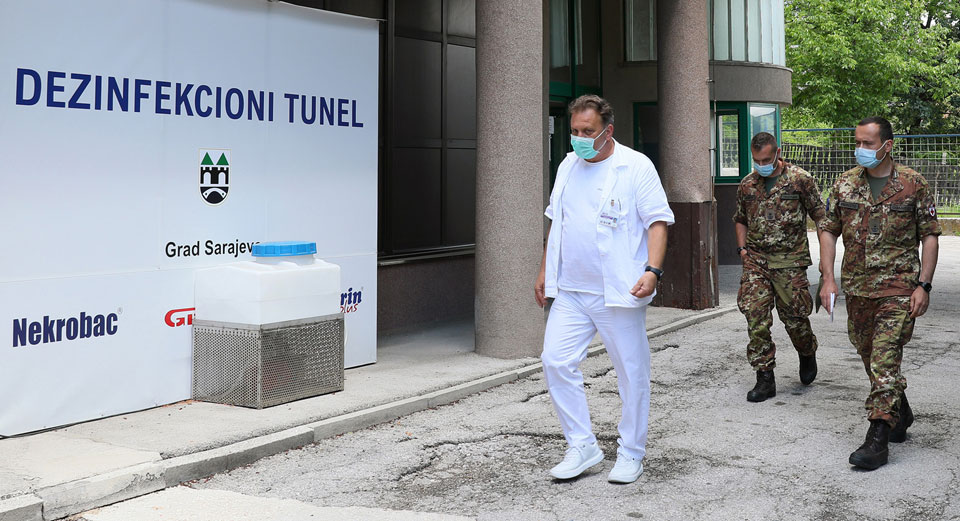 In Bihać, Dr Aida Mataruga showed the two EUFOR doctors how they worked under isolation conditions which is working well as no staff have been infected by the virus.
In Sarajevo, the hospital has been physically reconfigured and clinical practice altered to cope with the influx of BiH patients showing signs of the illness. Bed capacity has been increased by using the adjacent Faculty of Engineering which can now accommodate 200 isolated patients. The Clinical team under the guidance of Professor Sebija Izetbegović have been very quick to react to the COVID-19 situation. All new admissions are treated as though they are COVID-19 positive until tests reveal otherwise, in this way the she suggests, infection rates within the hospital of clinical staff and other patients are kept to an absolute minimum.
"Protecting employees as well as other patients is critical." said Professor Sebija Izetbegović at the Clinical Centre University Sarajevo. "Using a team of special doctors who have no contact with other patients ensures re-transmission is impossible."
The EUFOR doctors were very impressed with the proactive action throughout BiH to minimise the spread of COVID-19. EUFOR is keen to share the knowledge of its doctors and clinical staff within all areas of BiH and the three month tour of duty for these two will be very busy.