Page 1 of 4
The Swiss Head of Armed Forces Joint Staff, Major General Jean-Marc Halter, today visited EUFOR and met with Commander EUFOR, Major General Dieter Heidecker.
Major General Halter is responsible for the planning, conduct and evaluation of joint operations and missions of the Swiss Armed Forces in Switzerland and abroad. He plans and controls the readiness of the Armed Forces, and is directly accountable to the Chief of the Armed Forces.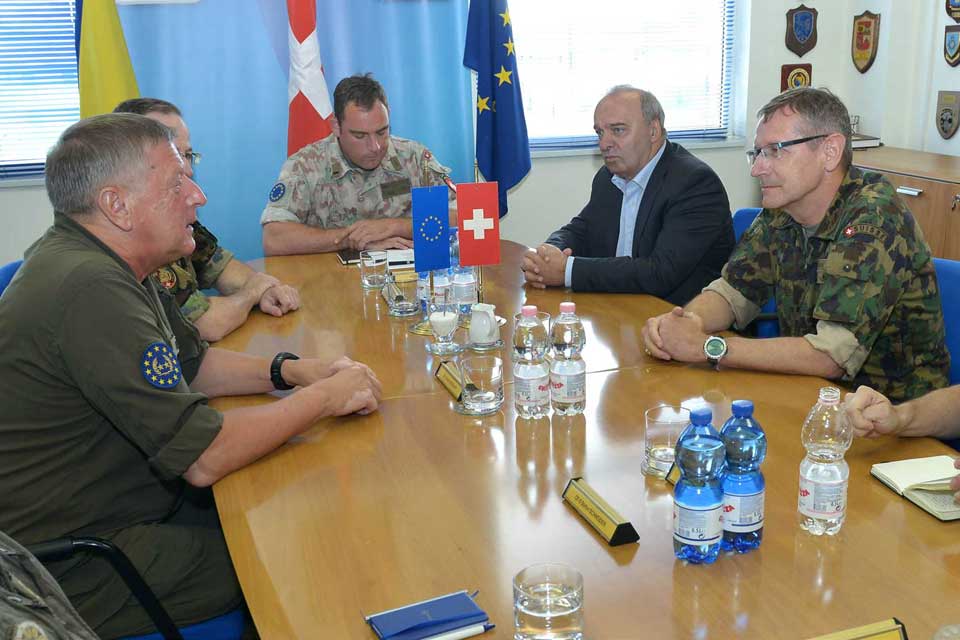 Major General Heidecker took the opportunity to thank the Swiss Armed Forces for their contribution to EUFOR. "Switzerland is one of 5 partnering nations who contribute to the EUFOR ALTHEA mission, in addition to 17 EU member states. Their work in this HQ and in the LOT houses is invaluable and I look forward to continued cooperation in the future", he said.
Switzerland has up to 4 staff officers within the EUFOR Headquarters, and also contributes 2 liaison and observation teams (LOTs), each consisting of 8 people in Mostar and Trebinje.
LOT houses enable EUFOR to maintain a presence throughout BiH, acting as the eyes, ears and point of contact for EUFOR when interacting with the local population.
Spokesperson:
Lt Cdr Alice Williams-Allden
00387 (0)33 495 216
00387 (0)66 914 665
This email address is being protected from spambots. You need JavaScript enabled to view it.
Chief Public Affairs Office:
Lt Col Alexander Pehr
00387 (0)33 495 214
00387 (0)66 914 664
This email address is being protected from spambots. You need JavaScript enabled to view it.